Gale Database Enhancements Coming This Summer!
Enhancements will primarily be focused on interface and display improvements and not impact database content. However, there are some changes that could impact the way your library may choose to display and provide access to the resources on your local web site.
Gale will be doing some rebranding that will primarily place the name "Gale" in front of product names. For example,
Academic OneFile will become Gale Academic OneFile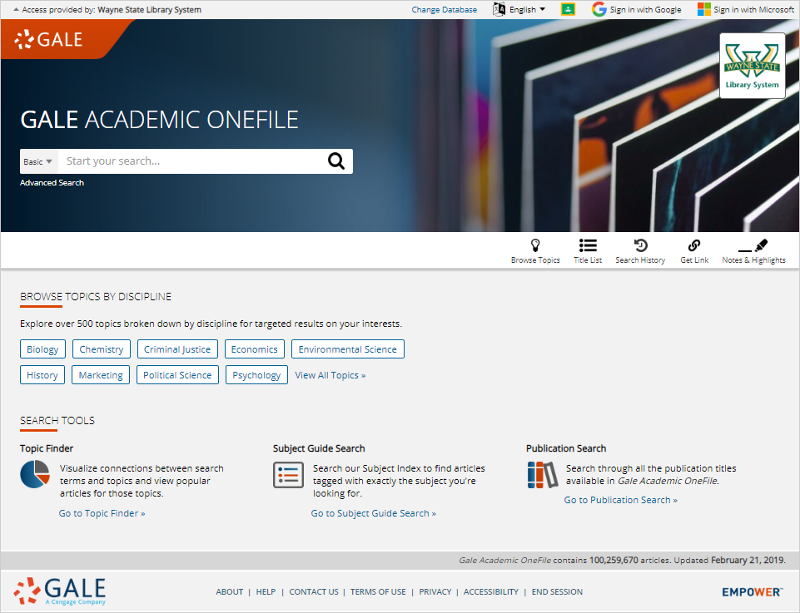 Libraries that provide A to Z lists will want to consider how to display database names with this new naming convention. Also, icons will be updated to reflect these new names, so those files may need to be refreshed on local library web sites.
Note: For libraries that use a Gale Pages to provide access on your web site, the icons, links and name changes will be automatically updated.
Potential Security/Firewall issues
HTTPS now mandatory - Secure product access will be guaranteed using HTTPS protocol. This ensures that data between a patron's browser and Gale products is encrypted, and that the right to privacy for library users is protected. HTTP links will automatically redirect to HTTPS for the foreseeable future, but updating your links by adding the "s" is good practice.
New, shorter domain names—Gale products will begin answering to *.gale.com instead of *.galegroup.com. All existing *.galegroup.com URLs will automatically redirect to the new location
EZ-Proxy/Innovative WAM: Libraries using either of these proxy servers will need to update the Gale entry in your proxy server configuration so that it reflects HTTPS and gale.com. Gale is working with OCLC and III now to develop an updated Gale configuration for you.
Firewall Whitelist : If your library firewall uses "whitelists" to allow traffic by domain name, you will need to ensure that the new *.gale.com domain is allowed to pass through. None of the Gale IP addresses are changing.
A summary of additional enhancements is available on the Gale web site.
The enhancements will impact the following InfoTrac and InContext products
Academic OneFile
Books & Authors
Business Collection
Computer Database
Educators Reference Complete
GREENR (Global Reference on the Environment, Energy, and Natural Resources)
General OneFile
General Science Collection
Health Reference Center Academic
Health and Wellness Resource Center
InfoTrac Newsstand
Informe
LegalTrac
Opposing Viewpoints In Context
Popular Magazines
PowerSearch
Research In Context
Small Business Resource Center
Student Resources In Context
This will also impact InfoTrac subject-focused collections:
Agriculture Collection
Business Economics and Theory
Communications and Mass Media Collection
Criminal Justice Collection
Culinary Arts Collection
Diversity Studies Collection
Environmental Studies and Policy Collection
Fine Arts and Music Collection
Gardening, Landscape and Horticulture Collection
Gender Studies Collection
Home Improvement Collection
Hospitality, Tourism and Leisure Collection
Information Science and Library Issues Collection
Insurance and Liability Collection
Nursing and Allied Health Collection
Physical Therapy and Sports Medicine Collection
Pop Culture Collection
Psychology Collection
Small Business Collection
U.S. History Collection